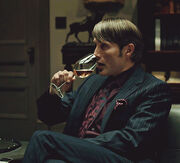 This is a page dedicated to the many wonderful varied suits worn by Hannibal Lecter throughout the series of Hannibal. There is a damn good reason why he is the best dressed villain on television.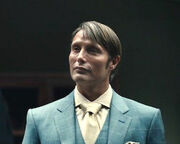 Killer Style
Three piece suits
Windsor Knot
Subtle dress shirt, rarely patterned.
Pocket squares are a plus.
Paisley is your friend.

The first character image of season 2 shows Hannibal in a very fine suit. Not that we'd expect anything else.
Gallery
---